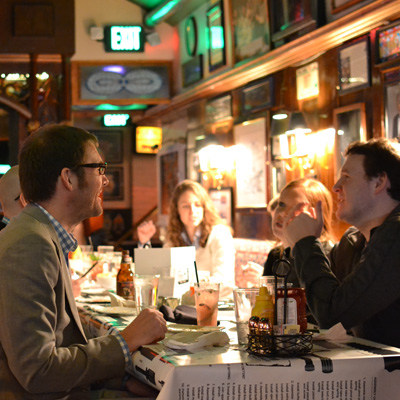 SafeHouse Milwaukee Lunch Special
If you're looking for a great lunch place in Milwaukee full of mystery and intrigue, you've come to the right place. The SafeHouse is the perfect place to break up your boring work day.

Make your way through the red door, covertly located in the alley, into an extravaganza of espionage complete with delicious food, excellent service, and a great story to bring back to the office.

Enjoy our $13.95 Lunch Special
- Any burger, sandwich, or salad
- Choice of a side
- Complete with a soft drink

We guarantee you will complete your Milwaukee lunch mission in 45 minutes or less. If we fail to complete our mission, your lunch is FREE!
Pro Tip
: Let Agent M know you're at the SafeHouse to "Lunch Like a Spy" and bypass your clearance test to ensure your mission is expedited.
Available Monday - Friday 11am - 4pm. Not valid in conjunction with other coupons or offers